Grapefruit and Shrimp Salad

recipe
Wow, does this salad taste like summer. Itís got fruits, veggies, lean protein, and a fabulous light vinaigrette. Perfect for lunch or a light dinner out on the patio under the sun.
Ingredients:
1 pound medium shrimp, shelled
1 tablespoon sesame oil
1 tablespoon honey
2 tablespoons balsamic vinegar
1 tablespoon soy sauce
½ teaspoon hot chile oil
3 tablespoons vegetable stock or water
4 cups fresh spinach leaves, torn into bite-size pieces
2 small pink grapefruit, peeled and sectioned
4 scallions, thinly sliced
Directions:
Bring large pot of salted water to a boil. Add shrimp and cook until pink, 2 to 3 minutes. Drain and allow to cool.

In a small bowl, make the dressing by whisking together the sesame oil, honey, balsamic vinegar, soy sauce, chile oil, and stock.

Arrange spinach leaves on a serving platter; sprinkle with a few tablespoons of dressing.

Position the grapefruit sections and cooked shrimp over spinach and drizzle with the remaining dressing. Garnish with scallions.
Back to the Shrimp Recipes home page.
Add a Review or Comment:
Data:
Published: April 26, 2011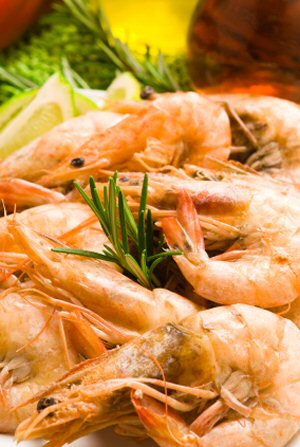 Similar Recipes:
Asian Shrimp Salad
Makes 4 servings.
Asparagus Shrimp Salad
Few salads are hearty enough to live up to ďentréeĒ status, but this salad does just that. Loaded with crunchy, sweet vegetable...
Garlic Shrimp
Garlic and shrimp, with just a simple butter sauce, make for a divine dinner.